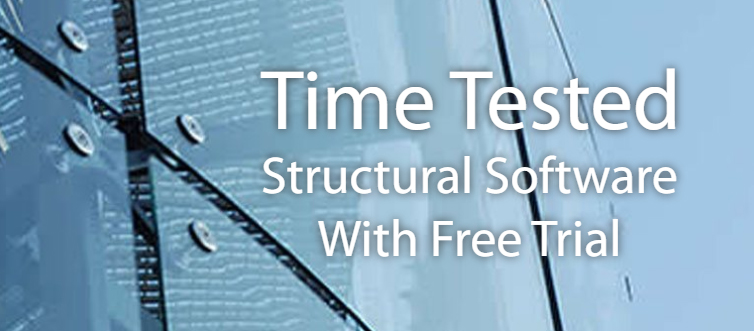 For more information call 1-800-449-5033 or for a FREE TRIAL Click Here!
Foundation Design Software For Structural Engineering Companies
Let us take a moment to lay out exactly why you should choose our foundation software for structural engineering jobs. We're glad you've decided to take a look, and we're confident that you'll soon see that we offer the best program and the best value in the industry.
It's Easy to Learn
First and foremost, the foundation design programs for structural engineering jobs are incredibly easy to learn how to use. They use a graphical user interface that is intuitive and uncomplicated. Don't make the mistake of thinking that this means it's low-caliber software, as it is a world-class program that really gives you more than you could ask for. We simply didn't think it needed to be overly complicated and confusing on those grounds alone. We made it easy to use so that it will make you faster and more efficient, and so that there's no learning curve when you set it up.
Professional Reports
The foundation software for structural engineering jobs also creates all of the professional reports that you need. You can do in-depth reports when you can't leave out even the smallest details or a broad overview when you just need the basics.
Free Trials
Maybe you're interested in our foundation design programs for structural engineering, but you don't yet want to commit to them. If so, we invite you to try it out before you buy it. We offer:
A free trial for at least five days.
Longer trials for 15 days.
Free setup assistance.
A free demo.
Online tech support.
Tech support that is done over the phone.
And much more.
We guarantee that you'll love our foundation software for structural engineer companies, and we're confident that it's exactly what you're after. The free trial is our way of showing it and letting you find out just how good it is firsthand.
Top-Notch Customer Service
One thing you'll find is that we offer the best customer service in the industry. When you have a problem and you contact us, for example, you'll get through to a technician who is a Master's degreed structural engineer. This is toll free. You can get help 24/7. While some other companies will just put you through to someone who was hired only for phone support – who has little real experience with foundation design software for engineering companies – we connect you with someone just like you, someone who can really solve your problems. We're dedicated to supporting all of our clients after the initial sale.
Call Now
To learn more about the price, the sleek, custom reports, or the way that modular software makes you efficient and accurate on jobs of every size, please call us now. We'd be happy to answer your questions about our foundation software for structural engineering or to set you up with a free trial right away. The main line to call is listed below.